It is important to spend time with your children outside the usual everyday events and locations. Children will appreciate the opportunity to get away from work and go on fun or adventures together, so you must know all of the fun things to do in Riga with kids.
Even though Riga is vast and full of entertainment options, we've decided to make it easier for you to find something to do. We've put together a selection of fun things to do in Riga that will be fun to do with your kids.
In this article, activity ideas are divided into the following sections:
For an educational day out in Riga
When thinking about what to do with children in Riga, we have made educational family activities in Riga a priority. There are many different museums and places to visit in Riga that will be both interesting and useful for you and your children.
Latvian National Museum of Natural History
Visiting museums is very important, especially in childhood. But often children can associate museums with something boring and monotonous, so it is important to take your children to interesting museums from an early age. So, if you're looking for what to do in Riga with your children, look no further.
The Latvian National Museum of Natural History immediately comes to mind, which will allow your child to get to know nature and see a wide variety of animal species.
You can visit the museum on your own or with a guide. If parents feel knowledgeable enough and children prefer to learn new things from their parents, they can also go as a family. It should be noted that it is not possible to get to know all the exhibitions thoroughly in one visit to the museum, so we recommend that you choose a specific topic to focus on in depth.
Latvian National Museum of Natural History location
Chocolate masterclass from Taste Caps
It's no secret that children love sweets. So a great way to teach your child something new is to link it most directly to sweets. A good idea is a joint chocolate masterclass for the whole family, during which you can make your own chocolate bars together.
At the Taste Caps Chocolate Masterclass, the whole family will be treated to interesting facts and stories about chocolate and how it is made in CAPS! chocolate factory. Of course, you will be able to take your treats home and show them off to the rest of the family.
Riga Motor Museum
If you are looking for family activities in Riga, Riga Motor Museum is a great place. Here you will be able to see various cars, it will be interesting for both children and parents. The Motor Museum is the largest, most diverse and technologically modern in the Baltics.
It is very child-friendly, as it offers an exciting adventure where you can not only look at beautiful rides, but also learn interesting facts. For example, your kids will be able to learn such fun facts as why rubber balls bounce and how lemons can be used to produce electricity.
Riga Motor Museum has taken care of a cool offer to make your day with children fun and full with valuable information at the same time.
Escape room for the whole family
Escape rooms or quests are a modern form of entertainment suitable for groups of around 4 people. It is a game where the main objective is to break out of the room. This has to be done within an hour by looking for different clues, hidden keys, riddles, etc. It is a real team effort that should be done by the whole family working together.
If the children are already grown up and want to play detective, this could be great fun for the whole family together. You can choose the quest according to the theme you want – there are escape rooms with different character themes, science quests, horror quests, etc.
A quest is also a great gift for the family during the holidays. For example, a Quest gift card will allow the family to choose a break-out room from 5 different companies in Riga.
Visit to the Laima Chocolate Museum
Another kingdom of delicacies is the well-known and popular Laima Chocolate Museum. It's a children's paradise, where you can work together to create all kinds of treats and see how everyday favourites are made. It is very interesting to be accompanied by a guide to see the fascinating production processes.
The Laima Chocolate Museum is also the perfect place to celebrate a child's birthday. Classic birthday celebrations are celebrated with a delicious chocolate drink, exploring the world of chocolate, decorating a celebration cake and making special sweets with your own hands.
Laima Chocolate Museum location
Viewing Square of the Latvian Academy of Sciences
There are many ways to provide interesting family activities in Riga – for children and the whole family. For those who are not afraid of heights, we recommend going to the observation deck at the Latvian Academy of Sciences.
After buying the tickets, you have to go to the elevator and go to the 15th floor. Then you have to climb two more floors on foot until you reach the observation deck. You will be able to enjoy a beautiful view of the center of Riga and the Daugava river.
We call this recreation educational because the children will have the opportunity to see the city from above. This is a good way to train your ability to navigate and find locations. Parents could show their children and teach them to recognize different places of Riga – for example, the Railway Bridge, the National Library, the Central Market, etc.
Latvian Academy of Sciences location
Visit the fascinating museum called Illusion Rooms
When looking for fun things to do in Riga with kids, illusion museums are always a good choice. It is a fascinating museum of illusions, where you can see and try out all kinds of illusions. Of course, you will also be able to take photos of them for your memories.
You will be able to see rooms such as the Walking in the Air room, the Tornado Tunnel room, the Disco Room, the shimmering Mirror Maze and more. This place is full of magic and the children will undoubtedly appreciate it.
Latvian Railway History Museum
If your children are fascinated by the world of trains, then the Latvian Railway History Museum is the right place to go on a breathtaking excursion. Various activities for children are available there, which will ensure that your vacation in Riga will be interesting and educational.
With special hunting maps, families can learn about the work of a station attendant, as well as step into a train car and listen to train stories, watch movies and play on the playgrounds.
Entrance tickets are free for children.
Latvian railway history museum location
Fun activities in Riga
What children want most is to have fun – and if you can do it with friends or family, that's even more special. The main basic purpose of fun is most often to have a good time and a good adventure. Here are our recommendations for fun things to do in Riga with kids.
Experience Virtual Reality with VR Gaming
Virtual reality is a modern and brand new form of entertainment that children would love. VR Gaming offers the chance to not only experience virtual reality, but to do it in a fun way -– by playing different games.
There are several rooms on site where you can try out VR services privately. There are also rooms with specially equipped racing areas if you want to try out racing games. There are 10 different games to choose from, including adventure, shooting, boxing, zombies and more.
Apollo Skypark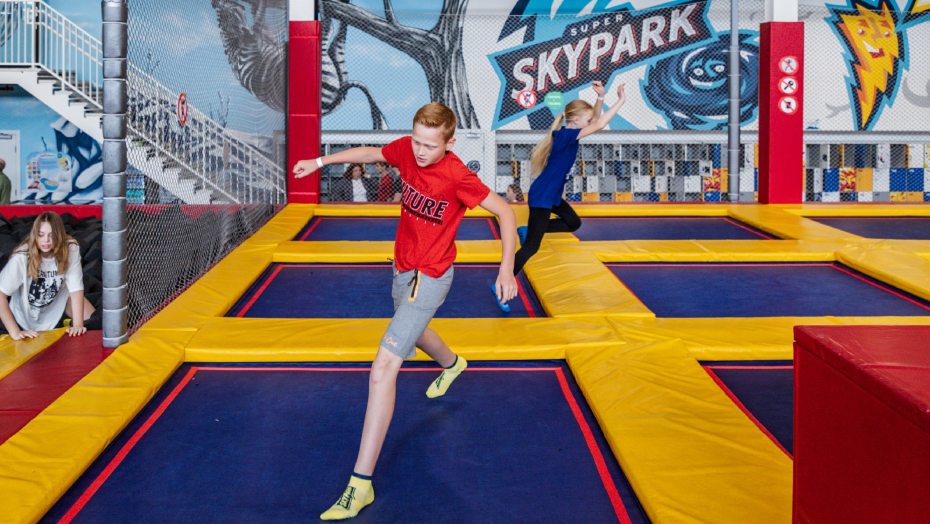 Apollo Skypark is a new place where family activities in Riga takes new turns. This attraction park is the largest indoor entertainment center in the Baltics, located in the "Domina Shopping" center.
The offer of Skypark is very wide, we would even say huge. If Latvian children had Disneyland, then Skypark is not far from it. The amusement park has a trampoline center, an autodrome, a cinema and a children's amusement park at the height of a four-story house.
Drift tricycle ride
The Drift Hall offers a chance to get out on drift trikes on a 3000 sq/m indoor track. The trikes offer everyone the chance to enjoy a controlled side-slide with no prior experience or special preparation. All you need is a good mood, a desire to compete and to catch the adrenaline!
These tricycles are equipped with an electric motor capable of a maximum power of 1000 W and speeds of up to 50 km/h. The specially designed running gear allows controlled handling even in side-slip mode. The drift hall can also host children's parties. Wolftrike tricycles are designed for children from 125cm, but there are also other activities that are fully accessible to everyone.
LIDO Coastal recreation centre
If you don't know what to do in Riga with your kids, the LIDO on Krasta Street is always a safe choice. LIDO is like a Latvian Disneyland, where you can go on holiday with your family for delicious food and fun. It's the best place to go in sunny weather so parents can enjoy a wide range of Latvian cuisine, while the kids can enjoy various attractions.
At the LIDO Recreation Centre on Krasta Street you will find activities such as a carousel, trampoline, driving range, mini-cars, bicycle karts, inflatable boat rides and a prize shooting range. The activities available depend on the season, of course. In summer, the LIDO area has beautiful fountains, while in winter, a giant, colourful Christmas tree delights the eyes.
Jump Space amusement park
Just a short walk from the LIDO is the next entertainment option – Jump Space Park. This offers the chance to try what it's like to fly in the Jump Space Riga trampoline park – the first 1600 m2 trampoline park in Latvia.
The number of visitors who can visit the park at the same time is limited. Before jumping, a warm-up is conducted with an explanation of safe jumping rules and a recommendation to wear special socks. Once the safety briefing is over, it's time to have a good run and leave all the extra energy on the trampolines!
Playoff arena for football lovers
The Playoff Arena is a place where you can enjoy various activities with your whole family. The football pitch is a particular highlight here – it's called a football paradise for a reason. The football pitches here are covered with artificial grass, and there are nets and netting around the pitch.
Children's parties for football enthusiasts can also be organised. In addition, there are special family day offers where you can try out more than 100 different games together. There will be no boredom, that's for sure!
Extreme sensations in a hang-glider
Hang gliding is great fun for children and young people from the age of 14. It may be done in the presence of parents with permission. The hang-gliding flight over Riga lasts for 20 minutes and is guided by an experienced pilot. This is a dream come true for those who are not afraid of heights!
If you've ever wanted to experience a bird's eye view, we recommend you try hang gliding. It could be the perfect gift for a child for the holidays!
The best way to give such a gift is with a Hang Gliding gift card.
Cinema visit
Cinema options are not available in every city in Latvia, so going to the cinema can often be the best entertainment in Riga. After all, it's not just a film or a cartoon, but a whole experience. Delicious popcorn with spices, nachos with cheese sauce, sweets and everything else. For children, all this is as important as seeing the film itself!
There are plenty of cinemas in Riga. Popular choices include Multikino in Riga Plaza, Forum Cinemas in Stockmann, Apollo Cinema in Akropolis or Alfa Cinamon Cinema. For a more sophisticated experience, you can also check out Kino Bize, K dog or the elegant Splendid palace.
Fun Park
Fun Park is a new, exciting and fun amusement park for children. It is one of the largest indoor amusement parks in the Baltics. Children of all ages will find something to keep them entertained in the park's 1,300 m2 of space.
There is a large climbing jungle, 9 slides (including a 4m super slide), 6 different trampolines, ball pools and a 90m2 playground for the smallest children. There is also a special lounge with TV for parents.
Outdoor activities with children
When the weather is good outside, try to get outdoors as often as possible. Fresh air is very important for children every day, so it is also a good idea to spend family time together in nature. We have put together some great suggestions for fun outdoor activities.
Essen Gardens in Pārdaugava
A great place to enjoy the fresh air and fun attractions is Esena Gardens in Pārdaugava. It's a bit outside the centre of Riga, but it's definitely possible to get here. It feels like you're just outside of Riga -– it's green all around, the grounds are spacious and the entertainment options are endless.
With the whole family, children can enjoy a variety of activities, from a water city, air trails, bike maps and outdoor games. Children's parties with their parents would be particularly interesting here.
Catamaran cruise on the Riga Canal
Another one of the fun things to do in Riga with kids, is a catamaran cruise. The Riga Canal is the place to enjoy a variety of water pleasures. For families with children, a catamaran cruise through the centre of Riga might be the best option.
On this route you will see the legendary Central Market district, the ornate architecture of the Old Town and the industrial environment of Andrejosta.
The most interesting thing is that the catamarans are quite easy to steer, so children will also be able to take part in steering. This entertainment is usually available in the very heart of Riga, at the Bastejkalns canal pier.
Visit to Riga National Zoo
The Riga National Zoo is a favourite destination for many children. There are all kinds of animals here. And if you manage to start your visit in the morning, you might even be able to catch a feeding demonstration. One of the zoo's favourite places is the much-loved Tropical House and the recently renovated Savannah area.
Special guided services for groups, including families, are available by prior arrangement. You can then enjoy your visit to the zoo by learning interesting facts from the guide about the daily life of the animals, as well as getting various surprises from the guide's bag.
As the zoo is located in Mežaparks, you can also combine your visit with a walk or a visit to the Mežaparks playground.
Boat trip on the Daugava
Another water activity to enjoy with the whole family is a boat trip. This is a particularly good way to have fun if you've been to a lot of places in Riga. Then it will be a completely new way of getting around and a chance to see the familiar from a completely different perspective.
On the boat you can enjoy the wind in your hair and have a good time. You can also order drinks and snacks, various delicacies.
The boats are located on Krastmala
Pik Nik theme park with private zoo
Pik Nik Park is the only family amusement park of this concept in Latvia with picnic areas in trees – TREEHOUSE style. There are various entertainment options for children of all ages. The most popular are the water attractions, such as the slides. Children will also enjoy a mini zoo with goats, rabbits, alpacas and other animals.
The founders of Pik Nik believe that spending time together can bring families together and strengthen friendships. They also know how necessary it is for good health to be active and spend time outdoors. That's why this activity park was created and is a favourite holiday destination for many families!
Wakepark and water park in Mārupe
Mārupe, just 20 minutes from the centre of Riga, is home to the largest water amusement park in the Baltics. It can be seen in this picture, although it should be mentioned that this is mainly a wakepark. It has three wakeboarding tracks, so the whole family can have a good time.
In addition, there are activities such as a sauna and large SUP boards, so you can also enjoy peaceful water activities. There is also a summer bar and a café.
Centre sports quarter, children's playground
Playgrounds are a good place for children to run around and have fun. In the centre of Riga, one of the most visited parks for some time is the Centra Sport Quarter. The picture below shows how much space has been dedicated to this park. Children can run, walk, crawl and ride all day long.
This playground is divided into different sections – there is a football pitch, volleyball nets, a skate park suitable for different levels of skate enthusiasts. And, of course, the play area itself, where you can swing, slide down slides, crawl on the Swedish walls and much more.
No more looking for what to do in Riga! Here you have a full list of activities to try out!
Hopefully this article has been useful to you and now you know of fun things to do in Riga with kids and how to keep them entertained!
For more ideas, check out our great ideas article on Things to do in Riga, where you can also get inspiration for places to eat.